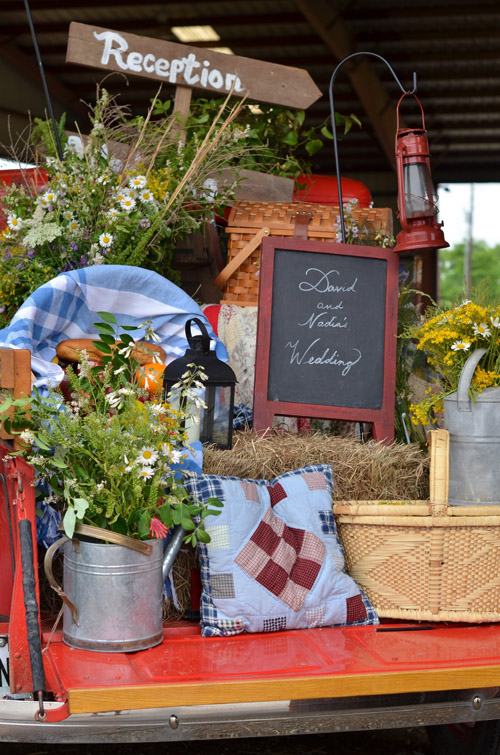 For the atmosphere of their wedding reception, David and Nadia chose the All-American picnic.
An obliging field provided the flowers.
One of the best parts of wedding prep was working with our wonderful church family, as they helped us put on a picnic for hundreds.
One of our guests, Jasmine Baucham (serving in the picture above), shared her observations on the wedding:
In most weddings, the context of the event is a long-unspoken understood. The backdrop of the gospel, the sacredness of the commitment, and the eternal importance of the couples' covenant is often lost in the traditional pageantry of the ceremony. My "once you've seen one, you've seen them all" mentality has often led me to say, as a general rule, "I'm not really a wedding kind of girl," despite the fact that I hope I'll be the marrying kind. However, the privilege of being able to be part of David and Nadia's wedding shifted my focus –because the focus of the day was not on a bride's princess moment, or a groom's simpering expression… the focus wasn't really on the bride and groom at all, but on the Bridegroom, Christ Jesus. Throughout the wedding day, from hearing the gospel faithfully proclaimed, to seeing in a very tangible manner the way the gospel had impacted David and Nadia's decision to join themselves, to getting a glimpse of how their families had trained them in a way that fully prepared them for this God-honoring day -to watching their church serve them in the cooking and decorating process, living out the Word's command to love one another -and, yes, to the joy and the love reflected in both the bride and groom's faces –I saw what a wedding could truly be like. And I had to amend my lifelong position of "not being a wedding kind of girl" to being a girl who loved every frigid moment of praising the Lord with the bride and groom. My prayers are with David and Nadia as they continue to be an example to young women like me -it started at their wedding day, but I pray that this example of being submitted to Christ will extend for generations to come.
Lunch Menu:
Hamburgers and Hotdogs
Spicy Coleslaw
Potato Salad
Baked Beans
Dessert:
Poppy Seed Cake
Orange Pound Cake
Chocolate Brownies
Lemon Curd Squares
Peanut Blossom Cookies
Chocolate Chip Cookies
Vanilla Ice Cream
This feast made possible by the wonderful young ladies of our community!
It's never too cold for ice cream.
Guests came all the way from Canada.
Boys on bleachers.