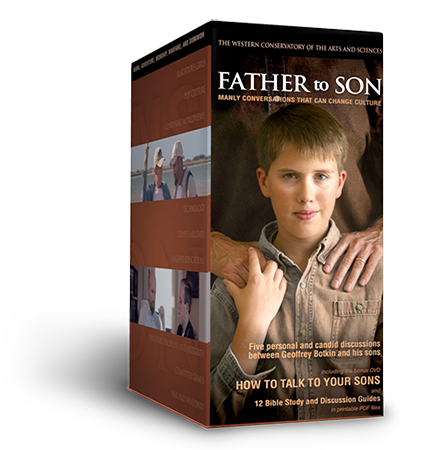 The Botkin family is pleased to make available one of our most significant products ever: a 6-part DVD series on the father-son relationship, titled "Father to Son: Manly Conversations that can Change Culture." Click below to watch the trailer:
Fathers need to talk to their sons in manly and specific ways about the duties of Christian fatherhood. This series of informal conversations between Geoffrey Botkin and his five sons provides fathers and future fathers with a simple example of manly discussion about the pressing issues that weigh on young minds. Each of the five episodes tackles an age-appropriate discipline of manhood and how it is developed side by side with fathers.

The set also includes the bonus DVD "How to Talk to Your Sons" and over one hundred pages of discussion material and study guides in easily-printable PDF files.
Go to FirstPacificMedia.com to order now, and take advantage of our special introductory price of $60 (save $10)!